VETRAZZO GLASS COUNTERTOPS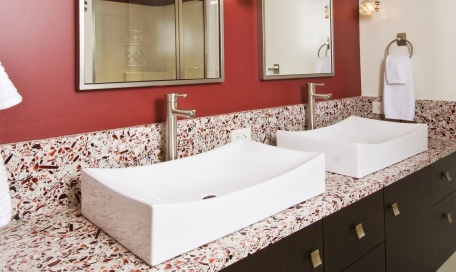 Vetrazzo is a line of exquisite surface materials crafted from over 85% recycled glass with a binder of cement, additives, pigments and other recycled materials. Vetrazzo can be used anywhere natural stone is used (including countertops and tabletops) and allows homeowners, architects, designers, and builders to exhibit both their style and their respect for the earth and environment.
How Vetrazzo Compares to Granite
Vetrazzo surfaces are smooth, just like highly polished granite. It is also comparable in strength, scratch resistance, thermal resistance, durability, and care and maintenance to granite. Vetrazzo can be used wherever granite or other natural stone surfaces are used.
Key Differences and Features
Because Vetrazzo is made entirely in the US and is composed of more than 85% recycled material, Vetrazzo is one of the most environmentally friendly surface materials on the market.
Vetrazzo is resistant to common household stains but can be damaged or stained by prolonged exposure to foods with high acidic content such as lemon juice, other citrus juices, wine and coffee. These acids may etch the surface causing a dull appearance. And staining agents (like berries, coffee and tea) will leave a trace if allowed to remain on the surface. This can be easily repaired by an authorized fabricator. We simply recommend you wipe up spills as they happen and wash with mild soap and water. Wax and reseal as directed. In the event the spill is left unattended, leaving a stain, it can be removed following the same techniques as the stone industry has used for centuries.
Heat Resistant
Scratch Resistant
Chip and Crack Resistant